The Walker
Shane was a college lacrosse goalie who was playing on our Fellowship of Christian Athletes lacrosse team in Vail, Colorado. During the tournament, God got ahold of Shane, and I remember being with him when he surrendered his life to Jesus. After the trip, I invited Shane to meet weekly for discipleship over breakfast.
One morning after two months of meeting, he was waiting for me at the restaurant with a big grin on his face. Before I could even sit down, Shane said loudly so I and other people in the restaurant could hear, "I figured it out! I figured it out!" Shane was practically over the table with his Bible wide open. He got right in my face, and with one hand under his open Bible and the other hand literally slapping the pages of his open Bible, Shane said these exact words with his face one inch from the open Bible: "I figured it out. I realized this week that if I do not get my face in the Book, I am dead meat! I GOTTA GET MY FACE IN THE BOOK!"
Someone who gets their "face in the Book" is a Walker. It is someone who has a passionate personal pursuit of Jesus. So, the Walker is you. Before you try to start identifying significant people in your life and what role they possibly can play, take the WisdomWalks journey yourself.
In 1 John 2:6, we are encouraged not to just profess Jesus, but to live as Jesus did. This biblical challenge encourages us to grow spiritually first. You can't give away what you don't have. Your public impact on others is directly related to your private walk with Jesus.
A Walker does two things—pursues and abides. Pursuing is engaging God daily, no matter what. The Walker will connect with Almighty God each day. A Walker has come to the understanding that the most vital part of the day is before God in worship and study. Therefore, it becomes a non-negotiable. There is an internal drive to practice spiritual disciplines and an unrelenting drive to pursue God. Abiding is the sustaining, day-to-day walking with Jesus. We all need to be Walkers, and we need other Walkers in our life to help us pursue and abide.
The characteristics of the Walker:
Engages God daily
Reads and meditates on the Word
Prays and listens
Worships and pursues
We must do whatever it takes to pursue God daily and get our face in the Book. If we don't, our lives will be less than they could be. If we do, our lives will be enriched and full.
Walkers get their face in the Book daily. They let God reveal powerful principles for a life that truly matters. It's not just checking the box and going through the motions. It is an intentional pursuit of God. Start today. Pursue and abide daily.
Dig In:
How do you pursue God?
When you look over the characteristics of the Walker, what's working? What's not working?
When does God want to meet with you each day?
"Father, I desire to seek Your Face daily. Show me when you desire to meet with me. I want to become a Walker. In Jesus' name, amen."
The Warrior
I once heard an athlete say, "We would have a great team except for all my teammates." Yes, we talk team, but we value self. I think it is built in us. There is something in us that says we can stand alone; we don't need others. From the youngest to the oldest, many of us have the mentality to do things by ourselves. We error on "I can do it" instead of "We can do it."
Doesn't loving God come down to just me? Yes and no. Yes, you do need to love God with all your heart and be a Walker. No, you can't do it alone! And that's why we all need a Warrior. Don't fall into that trap of isolation. Don't be stupid! Living the Christian life is a "we" thing not a "me" thing. There is a great African proverb that states, "If you want to go fast, go alone. If you want to go far, go together."
Don't get solitude and silence (two powerful spiritual disciplines) mixed up with isolation. Isolation is pulling away and saying, "I can live out my faith on my own, and I don't need anyone to help me." There is pride in isolation, and also fear. Some think we can live our faith through our own power while others are often afraid to let someone else see their "real me."
Eliminate isolation and invite a Warrior (a close friend) into your life. In the Warrior relationship, there is mutual mentoring and accountability. Attitudes and actions are confronted firmly and lovingly. This environment of trust and transparency allows real transformation to happen. Both are committed to helping the other be faithful, fulfilled, and fruitful. We are made to do what God has planned, live with passion, and bear much fruit. This is the abundant life.
Also, a Warrior challenges and encourages. By challenging, sharpening takes place through asking the tough questions and making sure there is nothing below the waterline that will sink your life. Every area of life is open for discussion, because there is full access. Encouraging others to be authentic is rooted in a desire to see others succeed. Locking up with one or two warriors will radically alter your life. When there is H.O.T. communication (honest, open, and transparent), God's work can be accomplished to shape us into the WisdomWalker He desires.
The characteristics of the Warrior:
Asks the tough questions
Confronts attitudes and actions
Lifts and builds up
Prevents wandering and drifting
For 30 years, we have had people in our lives that we connect with on a weekly basis — someone who asks us tough questions. Accountability has allowed us to live for Christ with greater purity and passion.
Live the Christian life as it is intended to be lived: as a team sport. Warriors are go-to teammates on your Dream Team who love you and believe the best in you. When you have a Warrior, you become their Warrior as well. Do you have a Warrior or two?
Dig In:
How could a Warrior help you fulfill your purpose? How could this relationship help someone fulfill their purpose?
Who is currently in your life that could be a Warrior? Make a list of 3-5 people. Ask them to be a Warrior in your life.
"Father, I know that need a Warrior or two. Please allow me to enter into an accountable relationship with a friend who I can do life with, shoulder-to-shoulder. I need someone who will love me enough to hold my feet to the fire! In Jesus' name, amen."
The Watchman
Barry Spofford, our friend and spiritual mentor, passed away on April 25, 2015. Six days later, on April 30, hundreds of people attended his Celebration Service in Colorado to honor a life well lived! Throughout his journey with cancer, his focus was always on his sweet Jesus.
For 23 years, we had the joy and honor to serve with Barry in FCA. God used Barry as a Watchman in our lives to show us the importance of spiritual disciplines, especially prayer. Barry taught us how to develop a deep prayer life by showing us that prayer is not a last resort but a first response. Spending hours of prayer on our knees with Barry in the early nineties, we saw God move mountains.
We didn't talk about prayer, but we prayed. Barry would slip off his Timex watch and set an hour on the timer, set it on the table, then get on his knees. He modeled for us that our lives need to be built on prayer. Barry, who was 20 years older than us, was an example of a man of God who sought the Lord's face daily…and always laying a foundation of prayer! Barry was our Watchman for many years, and he shaped us and molded us into men of God.
"Serve the Living God who wants to take your life and use it for His honor, His glory and His praise." — Barry Spofford
Today, we have other Watchmen who have picked up that torch and are helping us live a good and godly life. The Watchmanis a mentor—a wise teacher who has more life experience and desires to pass on in-the-trenches, real-life wisdom to us, the next generation. Life is all about surrounding yourself with the right people. Proverbs 13:20 says if you want more wisdom, then walk with someone who is wise. You have the opportunity to capitalize on what your mentor has learned, avoid similar mistakes, and implement principles and practices with a proven track record.
A Watchman guides and directs, because that person is in a different season of life that allows him or her to invest in your future. A Watchman plants greatness in others by watering the seeds of greatness with opportunities and fertilizing them with encouragement. With constant evaluation of progress, the watchman has a clear vision and can warn you of potential dangers in your life by communicating God's Word.
The characteristics of the Watchman:
Pours out what God has poured in
Shares life experiences
Applies the Word to your circumstances
Helps you navigate life well
A Watchman is like a veteran coach on your Dream Team. Our mentors have coached us up in many areas of our lives. And fruit is still growing on our trees. When you have a Watchman, you become their Workman. Do you have a Watchman?
Dig In:
Who has spiritually impacted your life? How?
Make a list of 3-5 people who you respect and look up to spiritually. Go have a cup of coffee with them and share with them the Watchman relationship.
When you find the right person (chemistry, fit, connection), ask them to be your Watchman. Arrange a consistent time to meet so you can began this vital mentoring relationship.
"Father, I need a Watchman who can direct and guide me. Show me who needs to be in my life who can clearly communicate Your Word and teach me to follow hard after You. I want to learn from their experience and apply the wisdom they pass on to me. In Jesus' name, amen."
The Workman
Bertoldo is a name that most people don't recognize. However, most people know Michelangelo who became one of the greatest sculptors of all time. At age 14, Michelangelo became Bertoldo's student, because Bertoldo saw greatness in him. Bertoldo was wise enough to realize that people with enormous talent are often tempted to coast rather than be disciplined and put the work in to become great.
One day in the studio, Michelangelo was toying with a piece of sculpture far beneath his abilities, and Bertoldo realized he was not doing his best. So Bertoldo grabbed a hammer and smashed the work into hundreds of pieces and shouted, "Michelangelo, talent is cheap; dedication is costly!"
Greatness is always recognized, but often we don't know the story behind the greatness. There is always someone who sees greatness in others before they become great. They understand the concept of passing the torch. Bertoldo saw greatness in Michelangelo before he saw it himself. Michelangelo become Bertoldo's Workman, and he dedicated himself and submitted himself under Bertoldo's guidance. Because we have all been made in the image of God, we all have seeds of greatness within us.
The Workman is a disciple—someone who has a desire to grow in spiritual maturity and live out the faith. The focus is on discipleship: spiritual training and growth, using the study and application of God's Word in every circumstance and life area. More than a teacher-student relationship, it follows the model of what Jesus did: He lived out the truth and taught it at the same time.
The characteristics of the Workman:
Follows the training plan
Asks questions, takes notes, listens, comes prepared
Puts wisdom into practice
Shows honor and appreciation
A Workman studies and trains because of an internal passion to grow spiritually. They are willing to see their weaknesses, make corrections and cultivate strengths. The Workman is the rookie on your Dream Team who has a ton of potential, and your investment will pay big dividends. When you have a Workman, you become their Watchman. Do you have a Workman?
Remember, life is all about relationships.When we live intentionally, maximize relationships, and pass the torch to others, we become difference-makers.
Here are 4 key questions all WisdomWalkers must ask:
Are you a Walker?
Do you have a Warrior?
Do you have a Watchman?
Do you have a Workman?
In the diagram below, put your name in the middle as the Walker. Also, each circle should have a name in it as you begin to define the four key relationships in your life.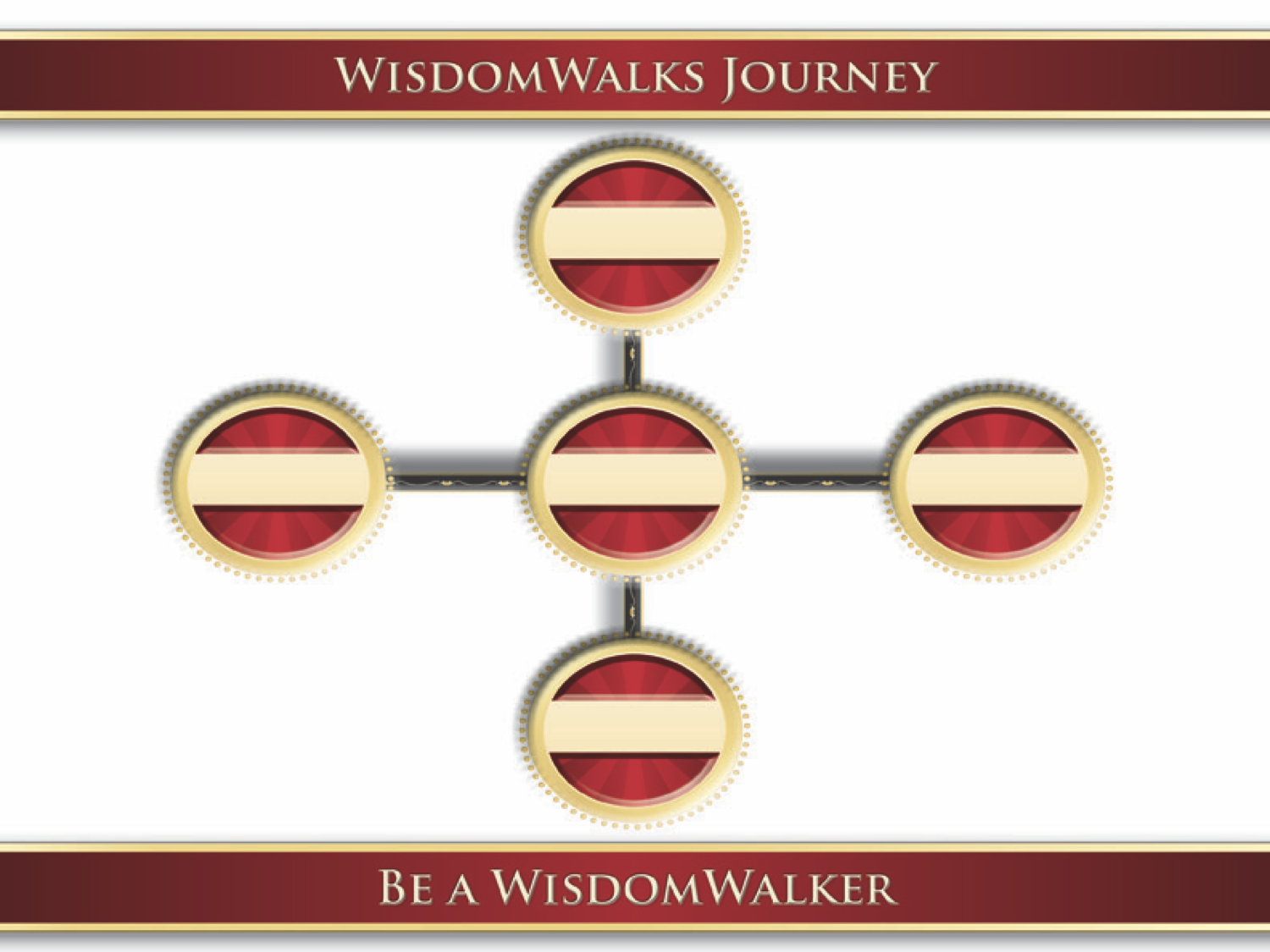 Each one of us needs a Walker, Watchman, a Warrior and a Workman. And we need to be those things as well for others. Start the journey today and become a WisdomWalker. Live intentionally, maximize relationships and pass the torch!
Dig In:
Who have you invested in spiritually? How?
Is there one person whom you could "tap on the shoulder" and ask them if you could mentor them?
Reach out to them and ask if you could meet with them on a regular basis.
"Father, I want to give of myself and invest in the next generation. Show me who I need to reach out to and ask them to start the journey. Reveal to me a Workman so I can become their Watchman. In Jesus' name, amen."
Start your WisdomWalks journey today and find resources at: www.WisdomWalks.org